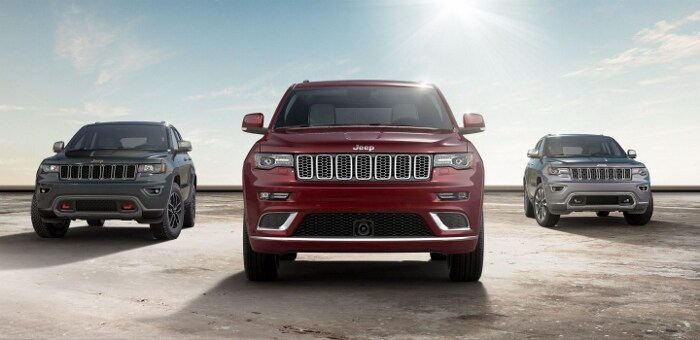 The Jeep® Trailhawk® trim has long been the high water mark for Jeep vehicles, but the automaker is kicking things up a few notches with the 2018 Jeep Grand Cherokee Trackhawk. Thanks to a supercharged 6.2-liter V8 engine, this upcoming SUV will get 707 horsepower and 645 lb.-ft. of torque, making it the quickest, most powerful SUV to date.
The engine itself is a marvel of engineering; constructed from strong, durable cast iron, the engine incorporates water jackets between the cylinders to provide optimal cooling. The forged-steel crankshaft with induction-hardened bearing surfaces is strong enough to withstand firing pressures of nearly 1,600 pounds per square inch. Having trouble figuring out exactly what that means? Think of it this way: it's the equivalent of five family sedans standing on each piston—every two revolutions. And the specially-tuned crankshaft damper has been burst tested to 13,000 revolutions per minute. Isn't it nice to know that your SUV can take whatever you can dish out?
The engine also features a new fuel delivery system complete with two high-flow, multi-mode pumps to meet the high-performance demands of the engine. And while this system heats things up, a new low-temperature cooling system keeps the charge air nice and cool during performance driving. There's even a high-capacity oil/air heat exchange mounted in the front of the vehicle to mitigate oil temperatures under harsh driving conditions.
If we're geeking out over the engine this much, imagine how much fun we'll have when the actual SUV hits our showroom here near Traverse City, MI later this year. While we wait on the newest Jeep SUV, be sure to check out the current selection of new Jeep models at Feeny Chrysler Jeep Dodge, including a 2017 Jeep Trailhawk.